Wavex® One Step Polishing Compound
Rs. 2,623.00
Rs. 341.00
(inclusive of all taxes)
FREE Delivery.
customers are viewing this product
Wavex One Step Polishing Compound delivers a mirror shine with durable protection in one step. The advanced polish is formulated using diminishing abrasive technology. The innovative abrasives cut fast to quickly remove swirls, scratches, and oxidation, then finish like a fine polish to create a wet mirror finish on all painted surfaces. It delivers a perfect finish is less time while being equally effective on single stage and clear coat paints.
Quickly removes swirls, scratches and oxidation makes the surface like freshly painted new.

Refine compounding marks and restore gloss and shine

Works best with rotary polishers and even with manual hand application

Delivers perfect finish in less time while being effective on single stage and clear coat paints

Available in multiple pack sizes of 350gm, 1 Kg, 5 Kg and 20Kg.
Customer Reviews
03/02/2022
Sachin B.

India
02/17/2022
Aniket

India
Wavex Products are so good
It is very nice and good quality
Thanks a lot sir for your review. We are really glad to provide you a Delightful experience.
01/29/2022
Shabnam D.

India
About One Step Polishing Compound
I am a person who loves his car more then anything After using different products from different brands after wasting my money on different products, now can finally say that wavex one step polishing compound is the thing I was actually looking for!!! Best in the price, best in the quality!! amazing experience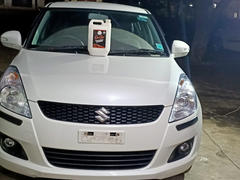 Thanks for your positive feedback and 5-star rating
10/31/2021
Bhuvaneshwar T.

India
Polishing Compound
Nice product.
Thanks for your positive review and a 5-star rating.
11/02/2020
Chandrashekhar P.

India
It is good Products using hand.
You can apply by hand also ...
Greetings! Thanks for your positive review and 4 star rating. We would really appreciate it if you could tell us why we couldn't rank as a 5 star store in your kind opinion? -Team WaveX