Wavex Car Polish Premium Paste Wax (460g) Includes Microfiber Cloth and Foam Applicator
Rs. 690.00
Rs. 495.00
(inclusive of all taxes)
FREE Delivery.
customers are viewing this product
WaveX premium paste wax is fine blend of natural carnauba wax and high class polymers. As it is a cleaner wax, it contains micro cutting agents which imparts high mirror glaze shine. Highest grade of natural carnauba wax imparts deep superior shine, protection and water bedding.
Premium blend of natural carnauba and high class polymers

Gives deep reflection and durable high mirror gloss shine

Hydrophobic effect gives water beading protection

Our most advanced formula in car wax polishes

Its a cleaner wax, contains micro cutting agents that imparts high mirror glaze shine
Customer Reviews
Excellent Product
Very nice product... Highly recommended
12/20/2021
Darshan R.

India
Wavex foaming wheeler cleaner
Works good and was amazed with the results removed all kind dirt on the tire rim very happy with the product, the only thing is the spray trigger is not working properly or sometimes sprays and sometimes not, foaming quality other things are upto the mark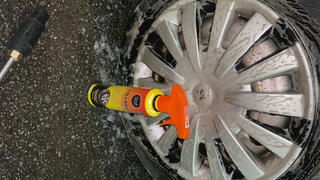 Thanks for your positive feedback and a 5-star rating.
02/07/2021
Ashfi P.

India
Five star
Great nice gloss n long lasting
Thanks for your positive review and 5-star rating!
10/15/2020
Tonlong W.

India
Worked like magic
Very user-friendly and easy to apply. It gives exceptionally good result (super glossy finish). I recommend this product for every car lover.
Dear Sir, Thank you for the 5-star rating and positive review. It really means a lot to us!
04/25/2021
WANBUDDIEN W.

India
Satisfied to my expectations
Thanks for your '4-star' rating. We would really appreciate it if you could tell us why we couldn't rank as a '5-star seller' in your kind opinion?